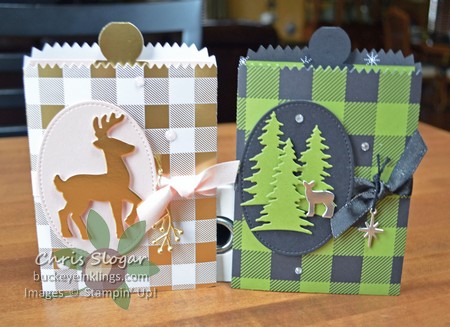 This time of year, I love the Mini Treat Bag Thinlits for gift cards and gift certificates.  I created these two versions with plaids from Year of Cheer and Merry Little Christmas.  Our two-sided designer series paper is especially great for these bags because you get a peek of a coordinating pattern on the inside of the bag.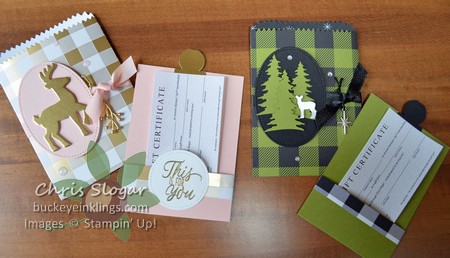 Each bag holds an insert piece with a pocket at the bottom.  The cardstock measures 3 3/8″ x 6 1/4″, scored at 1 1/2″.  I wrapped strips of designer paper around the top edge of the pocket to the back of the cardstock, thus holding the pocket in its folded position.
  If you would like to shop, please click here to go to the online store, or use the carousel below to be directed to a specific product from today's card.  I am sending a special gift with online orders of $35 or more this month.  Orders of  $50 or more also get a Buckeye Point in my Loyalty Rewards program.  I appreciate your orders!