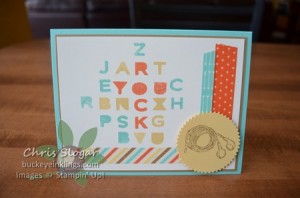 This is a Word Search puzzle with a very low difficulty level, thanks to the addition of color!  You may be groaning as you consider how many little stamps are involved, but please don't write this off yet.  It took under 20 minutes to make…really!  And if I want to make a duplicate, I could do it in under 10 minutes…maybe even 5.
For the puzzle, I made three stamps, one for each color.  I used my grid paper to lay out the letters; the message "YOU ROCK" was first.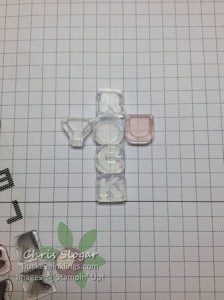 Each letter occupies a 1/2″ square, and once I had these laid out, I pressed my acrylic block right down onto them to pick them up.  I also traced the outline of the squares I used for the message.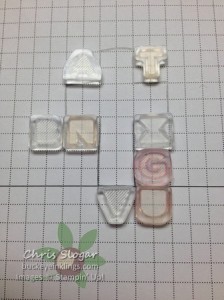 Then, I arranged the next set of letters around the outline; these are the letters that show up in So Saffron on the finished card.  I collected them on a block and traced the squares they occupy.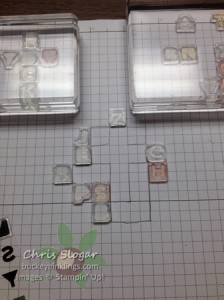 I am sure you are getting the idea now – here are the Coastal Cabana letters, ready to be applied to their block.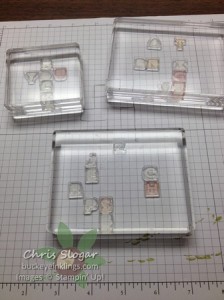 And finally, here are the three stamps I made.  I might spend more time on my next arrangement to hide even more words.  I did consciously put "ART" in the second row, and now I also see "TUX" down the right side.  Just be careful that you don't accidentally include words that are inappropriate 🙂
I am seeing a lot of possibilities for Word Searches…"LOVE YOU" is an obvious one, maybe some text messages, names would be fun – let me know what you come up with!
The letters are from the Photopolymer set "Sans & Stripes", only $13.95 for two alphabets!!  The details are below.  The ear buds are from the Hostess Set "Making a Point" in the Occasions Catalog.