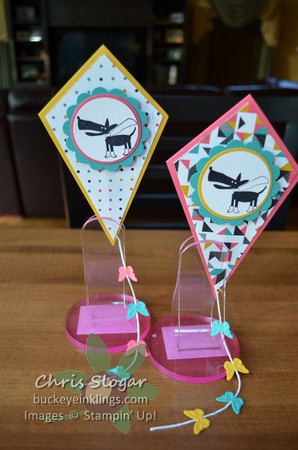 I love this unique card shape that I saw at The Paper Players.  I thought it was really fun for spring and summer, not necessarily just for a kid…but that superhero dog from the set "Cool Kid" does make it into a great kid card, doesn't it?  There is even a kite stamp in that set, which is perfect for the envelope for this card.  We made these in Stamp Club this weekend.  It unfolds with space for a greeting.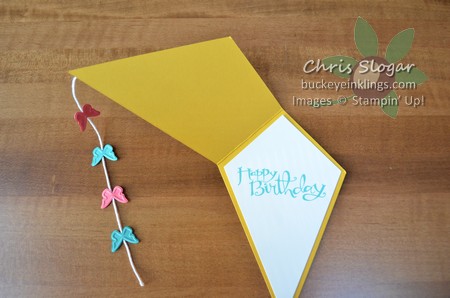 The card I saw at The Paper Players was a winning challenge card by Dawn Tidd, and she gave directions from her friend, Lynn G, who created this.  My dimensions may be slightly different, I just took the idea and ran with it.
To make the kite, start with a piece of cardstock 4 1/4″ x 8 1/2″.  Score and fold in half so that you have a 4 1/4″ square to work with.  Cut the kite shape as shown in the picture below, starting each diagonal cut line 2 1/2″ from the top left corner.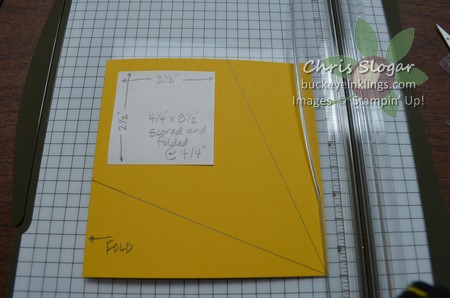 The designer paper piece and white liner are done in a similar fashion.  In either case, start with a 4″ square, and cut from a point 2 1/4″ from the corner (see picture below).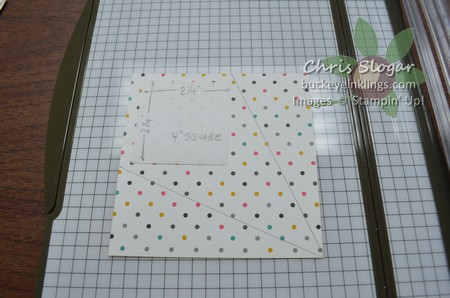 Just make sure to attach some Baker's Twine to the card base to create a tail before you add the designer paper.  Can you tell how I made my bows on the kite tail?  They are butterflies from the Beautiful Wings embosslit.  Have fun with it!