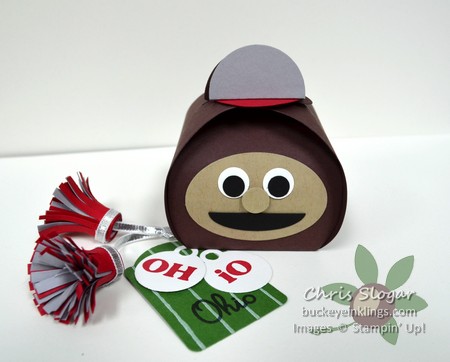 I don't think there is another mascot that fits the Curvy Keepsake Box more perfectly!  I have been anxious to put this guy together since my dies arrived last week, and I finally got a chance this weekend.
I used Chocolate Chip for the base pieces, and punched an oval from Crumb Cake with the XL Oval punch.  The eyes are from the Owl Builder, and the nose is a circle from the retired Itty Bitty Shapes Punch Pack (measures about 3/8″).  His mouth is from a retired oval punch that measure 1 3/8″ x 5/8″.  His hat is a portion of a 1 3/8″ Smoky Slate circle, with a portion of an XL Oval Real Red brim.  So easy and fun!
The pom poms are made from fringed 1″x 4 1/4″ strips of each color – Real Red and Smoky Slate.  The little horseshoe field is made from the new Note Tag punch, stamped with "Draw the Line".  The OH-iO and script Ohio stamps are not by Stampin' Up!
This curvy keepsake box is really versatile – you will find tons of examples on the internet!  It makes a cute favor in any color, with any embellishments, and it makes so many cute characters.  The finished size is roughly a 2 1/2″ cube which sounds really small, but it holds more than you would expect.  To give you an idea, it holds up to 12 Hershey kisses or 5 mini Reeses cups.
Here is a look at the dies in this set:
Item 135853 Curvy Keepsake Box Thinlit   $32.95
To make one box, you cut two of the odd L-shaped piece and attach them together at the square bottom.  You can cut three of the base pieces from one 8 1/2″ x 11″ sheet of cardstock.
Have a great day!