This stacked snowman is not new, but we do have a new punch this year that makes great stick arms for him – the Tree Builder.  His body pieces are 2 1/2″, 2″, and 1 1/2″ circles, and his hat is a 1 3/8″ square (with one side shortened) and the Word Window.  I am using a couple of things out of my retired stash here, too – the Northern Flurry embossing folder, and a greeting from "Loads of Love".
I took the easy way out on the eyes and nose.  I have several pencil erasers that I use as stamps.  I carved them years ago.  I have three sizes of black circles, and I even have a nose now, too.  You can see them in the picture below – I was making this same snowman for a Craft Show project two weeks ago.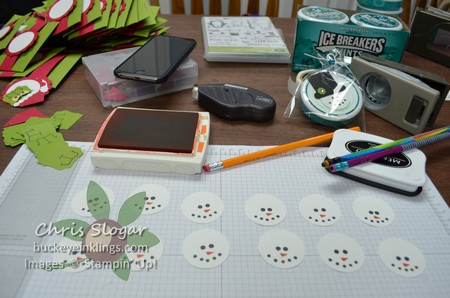 The eraser stamps are not hard to make – for the circles, just carve away at an eraser with an Exacto knife.  After you have gotten as close to a circle as possible, use an emery board to smooth the rough edges.  The nose is super easy – just make two slices across the full diameter of an eraser to leave a pie-shaped wedge.
Don't forget that today is the last day of the Online Extravaganza, with special sale prices on several items today only.  I will post the list again below.  Please let me know if you would like me to order for you, or click here for my online store.