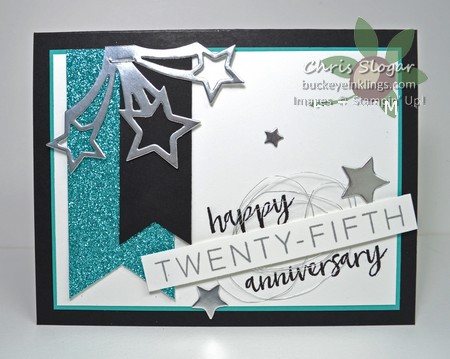 The greetings in "Milestone Moments" are so versatile; I find myself reaching for this set a lot lately.  I made this quick milestone anniversary card, but it could easily be made for many other occasions.  The stars from the Star Blast Edgelits make a fun embellishment, and what more can I say about the new SAB Glimmer Paper…love it!!
My Bermuda Bay mat measures 5″ x 3 3/4″, and the Whisper White is 4 7/8 x 3 5/8″.  I cut my banners at 1 1/2″ wide and 1″ wide so they would fit the Banner Triple Punch.  Here's a look at the stamp set – I think you'll agree that there are a lot of greeting possibilities here!
Several of our friends will celebrate 25th anniversaries this year – the years between 1991 and 1995 were big wedding years for our group of friends.  Boris and I celebrated our 25th anniversary in September, so today's throwback honors that milestone…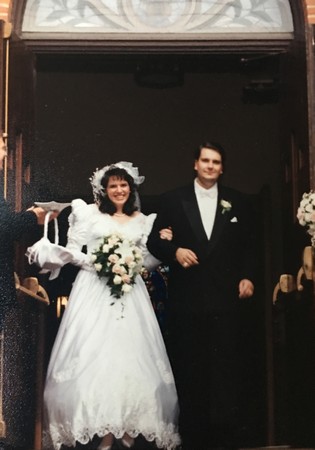 Look at that young girl!  And that guy with brown hair!  Haha – Boris was blessed with really premature gray hair.  It turned gray not long after this picture, but I will not take blame for that.  It definitely runs in his family.
Back to Stampin' Up! now, a few reminders…
Today is the last day to order my "Nailed It" Class To Go.  Click here for details.
Don't forget to leave a comment on Monday's post for the chance to win "Crazy About You" and the Hello, You Thinlits.  Click here to go to that post.
Click here to shop now, or click on an image in the carousel below to go directly to any of the products used on today's card.  Orders of $50 or more qualify you for a free Sale-a-bration item.  You'll also get a Buckeye Point in my Loyalty Rewards program, and I'll send you my current Featured Card.
Have a great day!