I have another version of the beautiful sunflower from "Painted Harvest", which will be available from the 2017 Holiday Catalog starting September 1.  This one is stamped with Daffodil Delight and Pumpkin Pie, and the leaf is Lemon Lime Twist with Garden Green.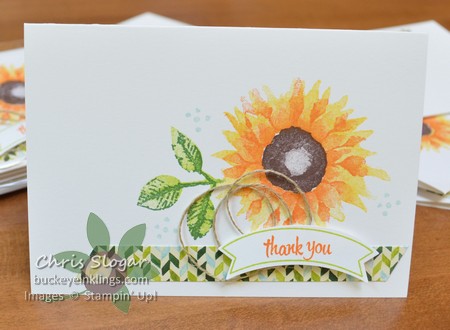 I stamped the flower and leaves directly onto note cards – these are 3 1/2″ x 5″ Thick Whisper White note cards.  They are available in packages of 20, with envelopes, and they are so handy!  They come pre-cut and pre-scored.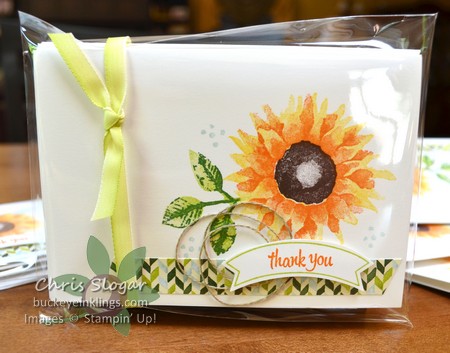 I am packaging these note cards in sets of four.  They fit in our Medium Clear Envelopes.  Would you like to receive a set of these?   I am making them for my new Paper Pumpkin subscribers this month.  Simply take advantage of the "Fall into Savings" offer and your first month will be only $9.98, and that includes shipping.  Click here to sign up and use Promo Code HALFOFF0917.

I am thrilled that this offer is available for the September kit – the fall and holiday kits are some of my favorites every year!  It's a great time to give Paper Pumpkin a try.  If you are not happy, you can cancel at any time.
Have a great Monday!