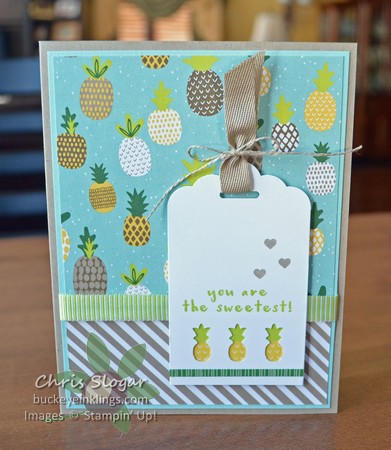 Everything about the Tutti Frutti Suite is appealing!  From the charming images to the mini punches, it's hard to resist.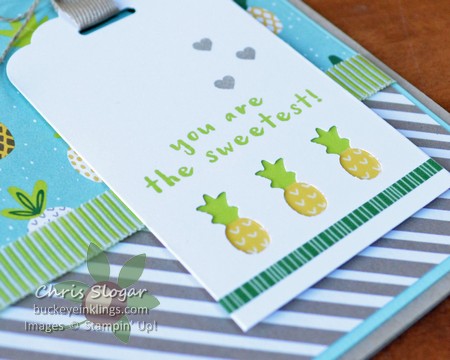 I punched pineapples at one end of a tag.  There is a piece of Whisper White with two lines of Washi Tape behind the punched pineapples to provide the color.  Such a fun way to use Washi Tape!  The tag was created from a piece of Whisper White, 2″ x 3 1/2″, punched at one end with the Scallop Tag Topper Punch.
The addition of designer paper and a bit of ribbon finishes this card off.  I love to show off the designer paper in this way, and it makes the backgound easy!  There are so many cute patterns in this Tutti Frutti collection. <3
 If you would like to shop, please click here to go to the online store or use the carousel below to go directly to a product used in today's projects.  I am sending a special gift with online orders of $35 or more this month.  Orders of  $50 or more also get a Buckeye Point in my Loyalty Rewards program.  I appreciate your orders!
Thanks for stopping by today!  Have a great Monday!