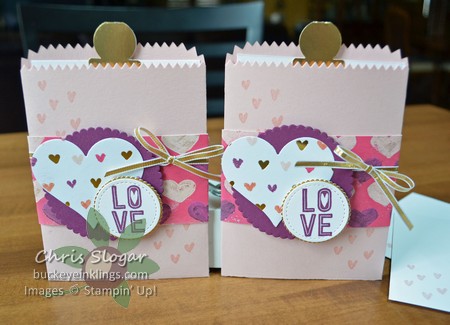 I hope you don't mind a little more Powder Pink today…'tis the season!  I made these with friends in Columbus yesterday – it was such a treat to see them.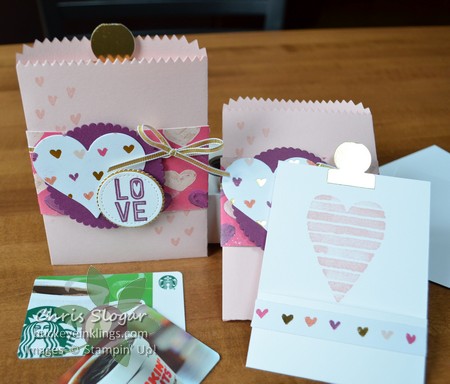 You might have already guessed that these would be gift card holders – I love to use the Mini Treat Bag Thinlits for gift card packaging.  You can make the treat bag out of designer paper or cardstock.
The Thick Whisper White insert measures 3 3/8″ x 6″, scored at 1 1/2″.  I used a 1/2″ strip of designer paper (the single line of hearts), wrapped around the insert piece and secured to the back to create the pocket.  I simply trim the ends so that they almost meet on the back.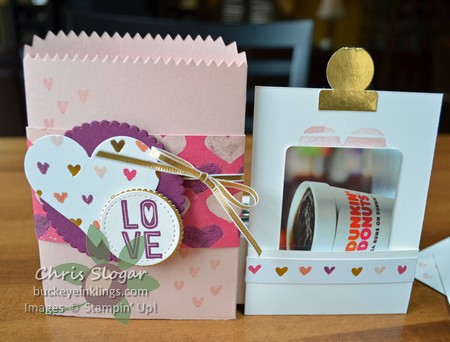 The paper is from the Painted with Love Specialty Designer Paper collection, and the LOVE stamp is from the "Labels to Love" stamp set, held over from the Holiday Catalog.  The other stamps are from "Heart Happiness".
So these two gift card holders will be mailed back to Columbus in the upcoming weeks.  When I make doubles of something (especially gift card holders), they are usually meant for my daughters.  I think the secret is safe here, though.  While my girls are my biggest fans on Instagram, I am quite sure they don't read to the end of my blog posts:)
 If you would like to shop, please click here to go to the online store or use the carousel below to be directed to a specific product used in today's project.  I am sending a special gift with online orders of $35 or more this month.  Orders of  $50 or more also get a Buckeye Point in my Loyalty Rewards program in addition to Sale-a-bration benefits.  I appreciate your orders!