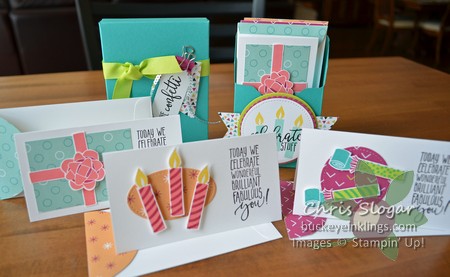 Have you seen the Narrow Note Cards that were introduced this month in the Occasions 2018 Catalog?  They are precut and scored to make finished cards measuring 2 1/2″ x 4 1/2″, and they come with envelopes that have a round flap on the end.  They are so cute!
I used these cards and envelopes to create a group of six mini birthday cards with the Picture Perfect Birthday Suite.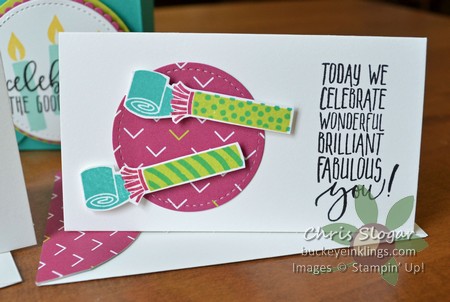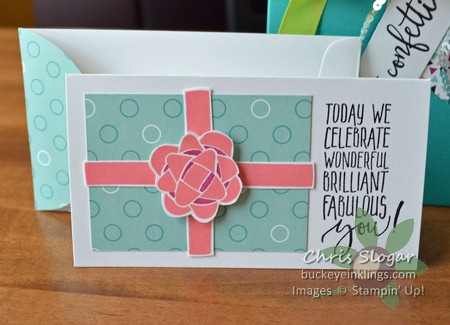 The designer paper on the last card (the present) measures 2″ x 2 3/4″.  These are really fun little cards to make!  I also made boxes to hold my cards.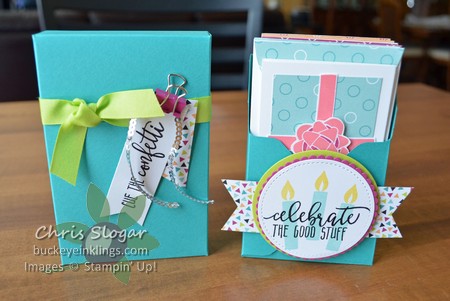 The box on the left is an envelope-style box that is about 3/4″ thick.  The file box is wider, as it is meant to stand on a desk.  Both of these boxes are made with the envelope punch board, as shown in the video below.  If you are receiving this blog post in an email, click here for the video.
This idea is easily adaptable to other themes.  The note cards would be suitable for Valentines, Thank Yous, Thinking of Yous, and more.  We have so many coordinating papers and embellishments for any of these themes, so the possibilities are endless.  I hope you'll try this – it is an easy project, and quite addicting!!
Thanks for checking out my project!  If you need any of our great products, click here to shop, or use the carousel below to be directed to a specific item used in today's project.  Your support in the online store will keep the videos coming, and I will send you a gift when you place an order of $35 or more.  I appreciate your business!